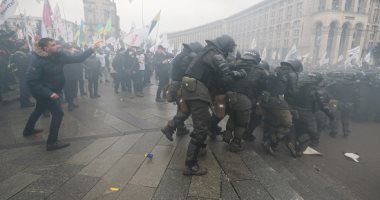 The Ukrainian Interior Ministry said that one of the policemen lost consciousness as a result of being beaten and 40 others were injured during clashes between the police and thousands of protesters against the general isolation, and during a demonstration by entrepreneurs and representatives of small companies in Independence Square in Kiev, clashes broke out between riot police and protesters after he tried Protesters set up tents.
The police said in a statement: "A policeman was hit on the head and lost consciousness, and 40 others were injured in eye burns" due to the gas. In a separate statement, the police said that 3 officers were taken to hospital for treatment after a group of drunken people attacked them, and the government announced the President of general isolation measures. Strict conditions across the country will be applied in January to combat the spread of Covid-19, following a jump in the number of recent cases.
The new general isolation measures include the closure of schools, cafes, restaurants, gyms and entertainment centers, and the prevention of gatherings, and will take effect from the eighth to the 24th of January.