Juventus coach Massimiliano Allegri announced the formation of the match against his host club, Spezia, scheduled for 6:30 p.m., today, Wednesday, at the "Alberto Pieco" stadium, in the fifth round of the Italian league "Calcio" for the current season 2021/2022.
Argentine star Paulo Dybala leads the Juventus attack in tonight's match alongside young striker Moise Kean, while Alvaro Morata sits on the bench.
Juventus will start the match with a formation consisting of:

Goalkeeper: Chesney.
Defense: De Sciglio, De Ligt, Bonucci, Danilo.
Midfield: McKinney, Bentancourt, Rabiot
Attack: Chiesa, Dybala, Moise Kean.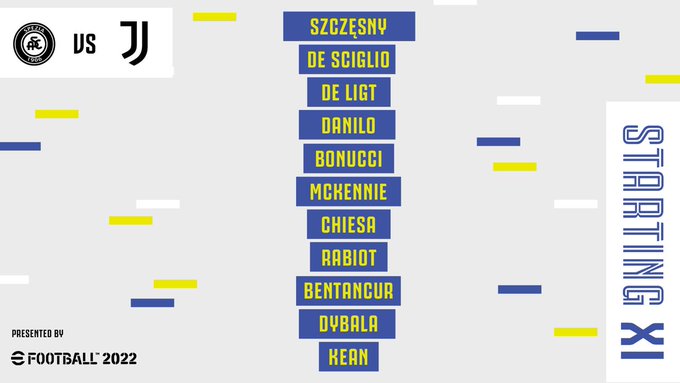 Juventus squad
Juventus, led by Massimiliano Allegri, suffers from one of the worst starts of the old lady in the history of his participation in the Italian League, as he failed to achieve victory despite the passage of 4 rounds so far..
Juventus won only two points from 4 matches, as it drew against Udinese 2/0 and against AC Milan 1/1, while it suffered two defeats against Empoli 1/0 and Napoli 2/1..
Juventus occupies 18th place in the Italian league table with two points, behind Cagliari and Salernitana in 19th and 20th places respectively..
Spezia is in the thirteenth place in the Italian league standings with 4 points, as he will enter the match with full force, as he hopes to achieve victory in order to advance more on the table and escape.
According to the global network "Opta" specialized in numbers and statistics, Juventus failed to win the first 4 rounds of the Italian League for the fourth time in its history..
This incident occurred on 3 previous occasions, the first in the 1942-1943 season, the second in the 1955-1956 season, and the third in the 1961-1962 season..