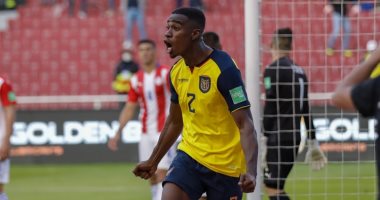 Ecuador beat Paraguay by two goals in the match that brought the two teams together, at Rodrigo Paz Delgado Stadium, in the ninth round of the South American qualifiers for the 2022 World Cup in Qatar.
Ecuador's double against Paraguay came in the last minutes of the match, Felix Torres scored the first goal in the 88th minute, and Michael Estrada added the second goal in the fifth minute of stoppage time for the match.
Ecuador climbed to the rank of the South American qualifiers table with 12 points, ahead of Argentina, which will soon face its host Venezuela, with 12 points, while Paraguay's balance stopped with 7 points in sixth place, and the Brazilian team leads with 18 points.
Earlier, Colombia drew 1-1 with its host Bolivia.
Venezuela will host Argentina at two o'clock this morning, and the ninth round matches will conclude with Chile's matches with Brazil, and Peru will host Uruguay at three o'clock in the morning.
And the International Football Association "FIFA" had announced the holding of two additional rounds of the 2022 World Cup qualifiers for the South American continent, during the international break in the coming months of September and October, and they were the two rounds that were supposed to be held last March (the fifth and sixth), and were postponed due to Corona virus crisis.