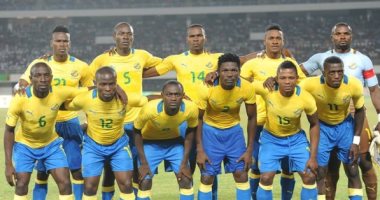 The Gabon team succeeded in advancing with a clean goal during the activities of the first quarter of its match against Libya, which is currently being held at the Benina Stadium in Benghazi, in the opening of the African Group F qualifiers for the World Cup, today, Wednesday, which includes Egypt and Angola, and their matches are held at the same time. As a result, the Pharaohs advanced with a goal without a response, which was scored by Afsha in the fourth minute from a penalty kick.
Gabon's goal was scored by Andrea Biogo Boko in the 11th minute of the match.
The Libyan national team will play the match with the formation of..
Goalkeeper: Mohamed Noshush
Defense line: Abdullah Al-Sharif – Ali Salama – Sanad Al-Werfalli – Al-Mu'tasim Sabbo
Midfield: Mohamed Al-Tohamy – Faisal Al-Badri – Mohammed Al-Tabbal
Offensive line: Muayyad Al-Lafi – Hamdo Al-Huni – Mohamed Zoabiya.
The Ethiopian referee, Malak Tassimia, manages the match between the Libyan national team against Gabon. that took place on January 29, 2014, the national team won on penalties (5-4), after the original time was completed with a draw without goals, to cross the Libyan team to the final and be crowned champion for the first time in its history.
In the second time, Malak Tsimia appeared again and managed the national team match against Cape Verde in the qualifiers for the 2017 African Nations Championship, specifically on September 3, 2016, and on that day the team won outside its field with a goal to nothing..
Referee Malak Tsimia, born in 1980, is one of the best African football referees; During his refereeing career, he led 93 matches in various tournaments at the African and international levels, during which he awarded 20 penalty kicks and announced about 200 fouls, and awarded 214 yellow cards and 4 red cards, according to the statistics of the exclusive page for the teams via "Facebook".