Arsenal coach Mikel Arteta announced the formation of his official team, in which he will play his Wimbledon counterpart in the second division, in the confrontation scheduled to take place at nine o'clock in the evening, Wednesday, at the Emirates Stadium. In the third round of the English League Cup for the current season 2021-2022.
Mohamed Elneny is on the bench in his first appearance after the injury he sustained during one of Arsenal's friendly matches during the last international calendar.
Arsenal line-up is as follows:
Goalkeeper: Berland Leno.
Defence: Cedric, Rob Holding, Mary, Tavares.
Midfield: Sambi, Barty, Matiland Niels.
Forwards: Gabriel Martinelli, Niktiah, Alexandre Lacazette.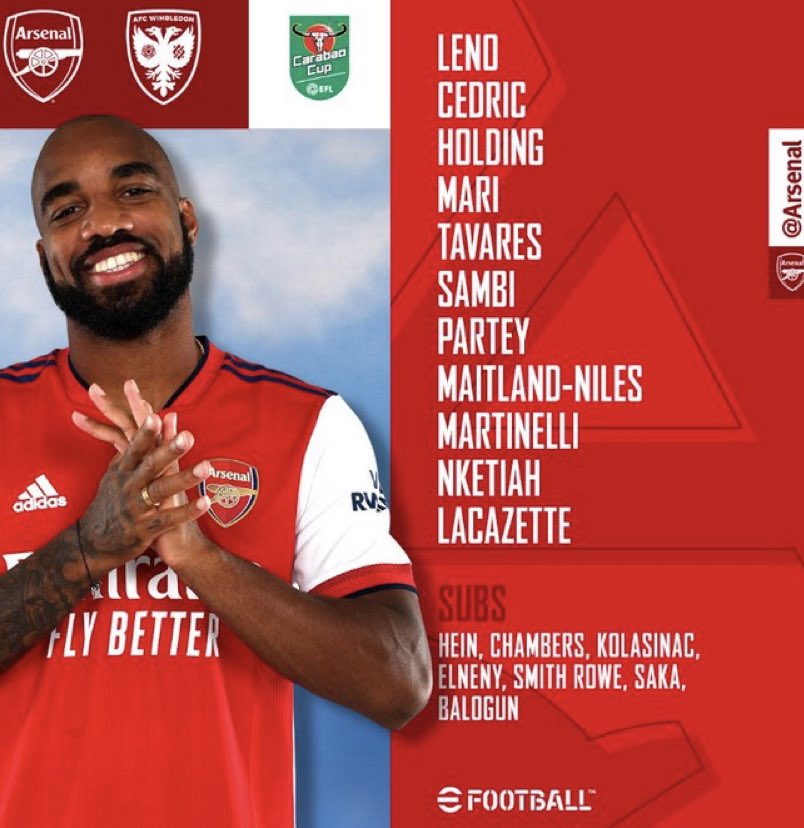 Arsenal formation
The Gunners qualified for the League Cup round of 32 after beating West Bromwich Albion, 6-0, in the match that brought the two teams together at The Hawthorns Stadium, in the second round of the competition.
Arsenal will play tonight's match led by coach Mikel Arteta, with high spirits after the Gunners managed to restore their balance in the English Premier League after a disappointing start to the current season.
Arsenal achieved their second victory in the Premier League in a row, after 3 consecutive defeats, as they beat Norwich City with a Gabonese goal, Pierre-Emerick Aubameyang, and then snatched a deserved victory from the fangs of its host, Burnley, with a goal free of charge, in the confrontation that brought them together at Turf Moor Stadium. In the fifth round of the English Premier League matches.
Arsenal jumped 4 positions at once, as it occupies thirteenth place in the English Premier League table with 6 points.
On the other hand, Wimbledon booked its seat in this round of the League Cup, after achieving a difficult victory in the deadly time against its counterpart Northampton Town, with a goal free of charge, in the second round competitions.