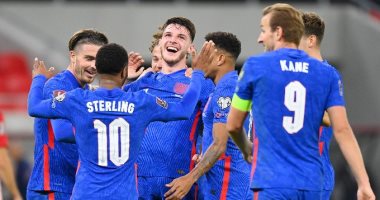 England will host Andorra at 6:00 pm on Sunday at Wembley Stadium in the British capital, London, as part of the fifth round of Group I of the European qualifiers for the 2022 World Cup.
The England team enters today's match, occupying the top of the group with a full score of 12 points, after winning all the previous four matches, while Andorra is in fifth place with 3 points.
In the last round, the England team defeated Hungary with four goals without a match, while Andorra scored the first 3 points, by beating San Marino with two goals free of charge.
England are seeking to win tonight's match, and continue to lead the group, especially since their rival Andorra is not a difficult opponent, which may lead coach Gareth Southgate to make changes to the starting lineup and give the opportunity to some substitute players.
The England team will be on a date in the next round next Wednesday with its host, the Polish national team, led by Bayern Munich striker Robert Lewandowski, in a difficult confrontation, especially since Poland is ranked second in the group with 7 points, and the English team rivals at the top.
In the same group, Albania will meet today with its Hungarian counterpart at six in the evening, while Poland will visit San Marino at nine in the evening.