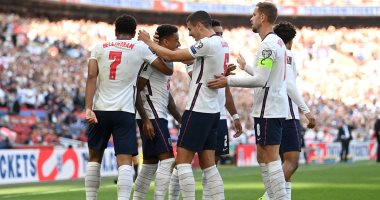 The England national team is facing a strong confrontation against its Polish host, which is scheduled for 9:00 pm today, Wednesday, at the "Slaski International Stadium", as part of the sixth round of Group I in the European qualifiers for the 2022 World Cup in Qatar.
The English team enters tonight's match at the top of Group I with 15 points, after winning all its five matches, while the Polish team is second with 10 points.
The Three Lions had won their last match against Andorra, 4-0, while Robert Lewandowski's companions beat their host San Marino 7-1.
The first leg match, which was held in the third round, last March, was decided by the England team with a score of 1-2, which was held at Wembley Stadium, in London.
The England team is seeking to win tonight's match in order to approach a new step towards qualifying for the 2022 World Cup in Qatar.
In the same group, Albania plays its counterpart San Marino, and Hungary hosts Andorra.
In another match, the German national team will be a guest of its Icelandic counterpart, at exactly nine o'clock in the evening, in the sixth round of the tenth group in the European qualifiers for the 2022 World Cup in Qatar.
The German team leads the tenth group table with 12 points, collected from 4 wins and a loss, while Iceland occupies the fifth and penultimate place with 4 points.
The German national team defeated Armenia 6-0 in the last round, while Iceland drew 2-2 with its guest North Macedonia.
Hans Flick, the new coach of the German national team, hopes to continue to win the successive victory, after winning the last two matches against Liechtenstein and Armenia.
In the same group, Armenia will face Liechtenstein, and North Macedonia will host Romania.