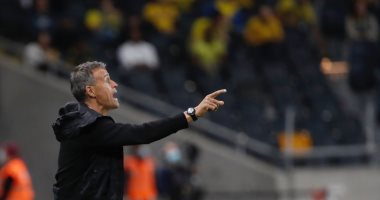 Spain coach Luis Enrique expressed his grief over the 2-1 loss of El Matador to his Swedish counterpart. In the match between the two teams, Thursday evening, at the "Friends Arena" in Solna, as part of the fourth round of Group B of the European qualifiers for the 2022 World Cup..
Luis Enrique said in the post-match press conference: "We had a special start and then after the mistake we couldn't make chances in our style and made big spaces for the opponent."
Luis Enrique added: "Our style of play was a catalyst for their counter-attack, and it is necessary to watch the match and then analyze it for development."
The Spain coach stressed, "I study every match well and when I do not see the implementation of what we have planned, I am worried." "We lost most of the duels with Sweden players in attack and in the middle, which made us pay the price," Luis Enrique said.
"We have to overcome difficulties and we have faced the most difficult situations in the world of football. If we do not win the next match in the qualifiers, we will also fight to qualify. This is our philosophy," the Spain coach said.
Enrique continued: "I should have made a mistake on the counter-attack, and this is my fault because it is my instructions. We will continue to fight to qualify."
The loss of Spain against Sweden is the first for the Matador team in the World Cup qualifiers in more than 28 years.
The "Opta" statistics network reported that the Spanish national team He suffered his first World Cup qualifying defeat since March 1993 against Denmark (1-0), to end a series of 66 qualifying matches without defeat (52 wins and 14 draws).
The Spanish national team also continued its contract against Sweden outside its stadium, where La Roja played 6 international matches against Sweden (4 Draws, 2 Losses), more than any other visiting team without a win at all.
World Cup Qualifiers
The first half ended with a 1-1 draw, as Spain advanced with the goal of Valencia midfielder Carlos Soler in his first international appearance in the fifth minute, and Sweden striker Alexander Isak quickly equalized in the sixth minute with a powerful shot from the edge of the penalty area..
Victor Claesson scored the winning goal for Sweden in the 57th minute with a ground shot from inside the penalty area.
Sweden took the lead in the group with 9 points from its Spanish counterpart, who fell to second place with 7 points.