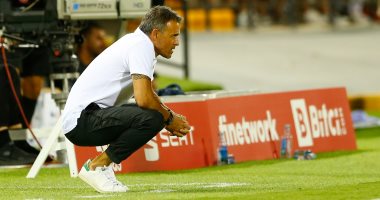 Luis Enrique, coach of the Spanish national team, expressed his satisfaction with the performance of his players, after defeating Georgia, by four goals, in the match that brought the two teams together, on Sunday evening, at the "Nuevo Vivero" stadium in Badajoz, as part of the fifth round matches of Group B, European qualifiers for the 2022 World Cup.
Enrique said, in statements after the end of the match, "I am happy in general with the level and the result, and we were able to score more goals. I listen to my players, but they have to listen to me."
The coach added: "The worst thing that happened today was the injuries, all the changes that occurred because of the injury."
Regarding the performance of some of his players, Enrique said: "Torres has quality and a sense of scoring and I am very happy with what he offers. He is a different player. Unai Simon is unbelievable. He has a tremendous desire to develop continuously and we have distinguished goalkeepers."
On Marcos Llorente, Isaacs said: "When you have a multi-position player like Llorente, it would be unfair to put him in one position."
Regarding the injuries that hit the Spanish national team players, Enrique said: "Laporte's injury is not worrisome, it just needs rest, but Gaia's injury does not look good and we are waiting for the medical report."
On the brilliance of midfielder Soler, Enrique said: "Soler has a very great final touch, he started this season at a high level, and I hope to continue like this in the future."
And he added, "The scoring depends on everyone, and the defensive pressure depends on everyone. The midfielders appear in many opportunities. The scoring was a matter of time and now Soler is in a scoring series, and he comes to the goal from the second line."
The first half ended with Spain winning three, as left back Jose Gaya scored the first goal in the 15th minute with a shot from outside the penalty area..
Midfielder Carlos Soler scored the second goal in the 25th minute from Marcos Llorente, before Ferran Torres scored the third goal in the 41st minute..
In the second half, Pablo Sarabia, newly signed for Sporting Lisbon, scored the fourth goal for the Spanish national team in the 63rd minute..
With this result, Spain regains the lead in Group B with 12 points, one point behind Sweden, who played two fewer games and did not play in this round, while Georgia is in the fifth and last place with one point..
Spain, led by coach Luis Enrique, regained its balance, after losing to its Swedish counterpart, 2-1, in the fourth round last Thursday.