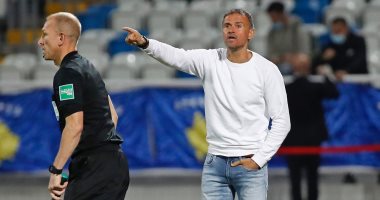 Spain coach Luis Enrique criticized his country's players in the match against Kosovo, during which the Matador team won 2-0, at the Vadel Vocre Stadium, on Wednesday evening, in the European qualifiers for the 2022 World Cup.
Enrique said in his comments after the match: "The match was difficult and had many complications from the beginning. We made many mistakes, and we had many moments of lack of focus, and we suffered because that gave them spaces."
He added, "It was very convenient to score the second goal, which ended the match and we see the result that we all hope for. I hope we can shoot on goal in the next matches more."
He continued, "We still have two matches ahead. The situation has changed, but our dependence on us does not mean that we will achieve it. Winning in Greece and Sweden will give us qualification for the World Cup."
He continued: "We are keen to improve, the players can accept everything they are told with instructions and ideas, and we can be a stronger team, with changes, with six or seven new players, but the idea and philosophy are the same but we are not the best in the world even though we are among the Best".
The Spanish team strengthened its lead in Group B with 13 points, while the balance of the Kosovo team stopped at 4 points in fourth place.