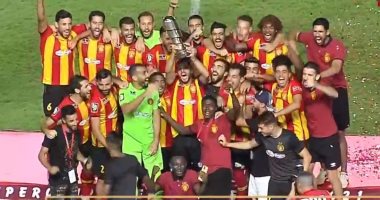 Esperance team won the Tunisian Super Cup for the sixth time in its history, after its precious victory over its counterpart CS Sfaxien with a clean goal, in the meeting that brought the two teams together on Saturday evening, at the "Olympic Stadium Hamadi Al-Aqrabi" stadium.
The goal of Esperance's victory in the match, Nigerian striker Anayo Iwala, came in the 57th minute of the match, with a powerful shot to the left of the Sfaxien goalkeeper.
The Tunisian Super Cup is the first title of coach Rady Jaaidi with the Esperance team, after taking charge after the end of last season, succeeding coach Moeen El Shaabani, who leads the Al-Masry Al-Port Said team.
Esperance lost the Tunisian Super Cup last season, which was held last Saturday against the Monastir Union team, by penalty shootout, 4-3, after the end of the original time of the match, with a positive tie, 1-1, to win the title for the first time in its history.
Esperance is the record holder in winning the Tunisian Super Cup with 6 titles.