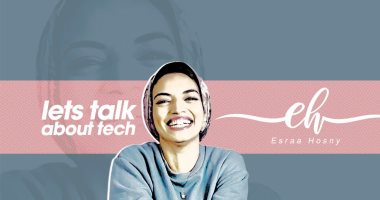 "The audience wants this" is a cliché that the majority of entertainment content makers respond to, which is drifting towards disgrace on Tik Tok, claiming that the nature of the application requires them to provide content without content, but the technology blog and content creator Esraa Hosni proved the lie of this idea by providing attractive technical content that gained wide popularity, attracting hundreds of people. Thousands of followers and five million likes on Tik Tok in nearly a year.
Esraa, who graduated from the Faculty of Media and specialized in technology journalism at the Seventh Day newspaper before taking charge of managing her social media accounts, succeeded in simplifying technical information for followers through simple and attractive videos on Instagram and then Tik Tok.
The content provided by Esraa Hosni is divided between news of the latest technologies, especially those related to smartphones, as well as technological tricks related to iPhone phones, whose users, especially new users, often have difficulty understanding it. In addition, it offers tricks for Instagram and WhatsApp users to provide professional content with the simplest capabilities.
Esraa Hosni also provided many tips on preserving the battery of smartphones, ways to protect privacy, as well as professional photo editing tricks, through about 400 simple and attractive clips, thus changing the concept of "Tik Tok girls" among followers with purposeful content that is completely far from profanity.