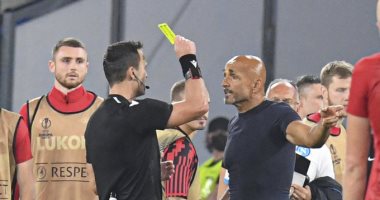 Napoli coach Luciano Spalletti talked about the reasons that led to him receiving a yellow card after clashes broke out between the two technical staff at the end of the Spartak Moscow match, in the European League, after the guests managed to turn the table on the hosts, and defeated him 3/2 in the match that was held Thursday evening at Diego Armando Maradona Stadium in the second round of the group stage.
This is the first defeat for the team during the current season after winning the full mark in the Italian League in 6 rounds, in addition to a draw with Leicester City in the European League last match away from home.
Luciano Spalletti confirmed to Sky Sport Italia: "Nothing happened, I simply went to greet one of Spartak's assistants, because he made fun of us throughout the whole second half, I just wanted to shake his hand."
The Napoli coach added: "When we defend too deep, it becomes difficult to go back in attack, and we were struggling after the sending off.
Spalletti explained: "Having also sent off a player from Spartak, we really thought we could get him back on the terms of the level, but instead there was too haste.
"We could improve on some things, and I expected to do better in the last 15 minutes, but we weren't organized enough," Spalletti said.
"I have lost many times, so it is not entirely new, if we score a second goal in the first half, we will have won," the Napoli coach stressed.
"We didn't do well after we got down to 10 players, it's a game we can lose," Spalletti said. ".