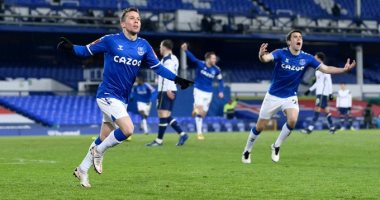 Everton faces Burnley at nine in the evening at Goodison Park, in the fourth round of the English Premier League, and Burnley scored the last victory over Everton last season with two goals without a response.
In the next match, Burnley will face Arsenal on Saturday, 18 September in the fifth round of the Premier League, while Everton will face Aston Villa.
Everton enters the match today in seventh place with 7 points after playing three matches, winning two matches and drawing in the third, while Burnley enters the match occupying 17th place with one point from a single draw in three matches.
In a separate context, Juventus had announced his contract with Moise Kean on loan from Everton for a period of two years, to return the Italian striker to the club with which he started his professional career.
In an official statement, Juventus confirmed that he had reached an agreement to pay seven million euros ($8.28 million) in the loan, three million euros in the 2021-2022 season and another four million next season.
Kane, a youngster from the youth sector in Juventus, made his first match for the first team in 2016 when he was 16 years old, becoming the youngest player to participate with the club and the second youngest player to score a goal in the Italian Serie A.
For his part, Everton coach Rafa Benitez confirmed that there are clubs interested in contracting the Colombian James Rodriguez, but the player is still in the English team and is training normally with his colleagues.
James faced a lot of ups and downs with Everton last season due to injuries, and in the summer Mercato, which has already ended, rumors circulated about his departure, which is still possible if it is for countries where the transfer market has not closed its doors yet.
Benitez said that the 30-year-old is "training with the team," adding, "Of course we talked about his future and there are clubs interested in him, but he is still here and training with the rest of his colleagues."
As for James' level, Benitez has made it clear that he needs to play many matches to gain rhythm and is now somewhat behind his teammates.
The Spanish coach added, "The team is playing well and the players know what we want. He has to understand that and adapt to the team to get the most out of everyone."