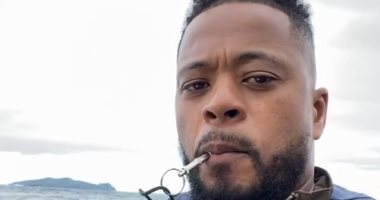 French star Patrice Evra, his former teammate in Manchester United, flirted with Portuguese star Cristiano Ronaldo, after news that the Don had moved to a new palace, due to the disturbance of the sheep, which were surrounding his house.
And Evra posted, through his account on "Instagram", a video clip while he was on a boat with a "whistle" in his mouth, with a group of sheep, accompanied by a comment: "Do not worry, Brother Cristiano, I am moving my sheep away from your house, the shepherd can do everything." He added, "I will take care of you, and you will finally be able to sleep peacefully."
And recent press reports revealed that the Portuguese Cristiano Ronaldo, the Manchester United striker, was forced to change his house in Manchester; Because he is worried about the sounds of goats and sheep near him.
And the English newspaper "Sun" said, Ronaldo, 36, the Manchester United star, moved to another house, due to his constant desire to feel comfortable in the free time between matches, adding that Ronaldo preferred to move to another 7-room house he owned in Manchester..
The newspaper confirmed that a security team moved the Manchester United legend and his family to a house worth 6 million pounds sterling on an area of ​​23 acres after completing his return to Manchester United this summer, but he left with his family less than a week later; Because of the annoying sounds of sheep and security concerns.
The newspaper added, that while the property is beautiful and is located in wonderful fields and forests, it is also close to the sheep that are very noisy in the early morning, Ronaldo is a true professional who prefers a lot of rest and recovery after the matches, so he decided that it was best for him and his family to move. .