The Brazilian star Fabinho Tavares was crowned the Liverpool man of the match against AC Milan, in the match that took place on Wednesday evening, and ended with the victory of the Reds, with three goals to two, in the first round of the group stage of the Champions League.
And the official Liverpool account via Twitter announced Fabinbo's victory in the man of the match title, saying: "Fabiño is the best player for the second match in a row, a wonderful and usual performance against Liverpool and Milan."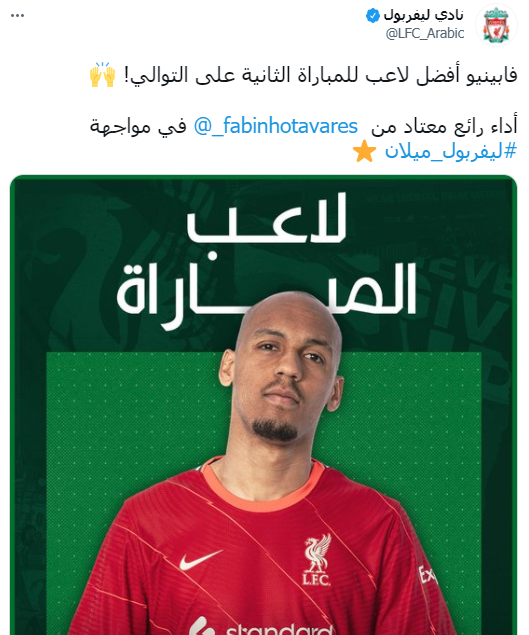 Liverpool defeated its Italian guest, AC Milan, 3-2, in the exciting match that brought the two teams together at Anfield, in the first round of the second group stage of the Champions League group stage..
The first half ended with Milan progressing 2-1, as Trent Alexander-Arnold scored the goal of Liverpool in partnership with Milan defender Tomori, in the ninth minute after receiving a pass from Mohamed Salah to go through the defenses of the Rossoneri and hit a strong ball in the goal.
The Croatian Ante Rebic scored the equalizer for Milan in the 42nd minute by one-on-one with goalkeeper Alisson, before the Spaniard Brahim Diaz scored the second goal in the 44th minute..
In the second half, Mohamed Salah scored Liverpool's second goal in the 49th minute, after receiving a charming pass from Divock Origi to put it in the goal to the right of the Milan goalkeeper..
Jordan Henderson scored Liverpool's third goal in the 69th minute, with a ground shot from outside the penalty area to settle to the right of the Milan goalkeeper, which is the first goal of the Reds captain in the Champions League..