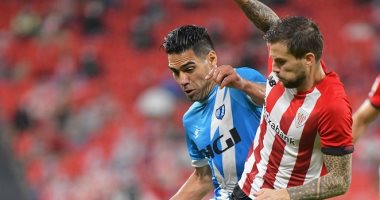 Veteran Colombian star Radamel Falcao led his team, Rayo Vallecano, to a fatal victory over its host Athletic Bilbao, 2-1, in the exciting meeting that brought the two teams together, on Tuesday evening, at the "San Mames" stadium, in the sixth round of the Spanish League "La Liga". .
And the positive tie was settled with a score of 1-1 in the first half of the match. Rayo Vallecano scored the first goal in the fifth minute of the match, through Alvaro Garcia. Athletic Bilbao equalized in the 33rd minute through Rayo Vallecano's Bate Sess own goal.
The Colombian tiger Falcao scored the visitors' winning goal in the seventh minute of the match, after entering the substitute in the 76th minute of the match.
Falcao's goal against the Basque team is his second with Rayo Vallecano, after he scored a goal in a 3-0 victory over Getafe in the last round.
The 35-year-old Colombian striker joined the newly promoted team of La Liga on a free deal, after the termination of his contract with the Turkish Galatasaray.
Rayo Vallecano raised his score to 10 points to occupy fourth place in the Spanish league table, which is led by Atletico Madrid with 14 points, after beating Getafe 2-1 earlier in the day, while Athletic Bilbao's balance stopped at 9 points in sixth place.