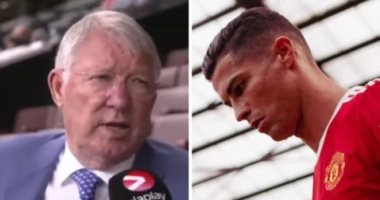 Sir Alex Ferguson, the legend of Manchester United, commented for the first time on the return of Portuguese star Cristiano Ronaldo again to the Red Devils, as well as his brilliance in his first meeting after returning to the English club, where he scored two goals in the Red Devils victory, Saturday evening, against Newcastle United 4- 1 in the English Premier League.
Ferguson said, "I went out like everyone else, there was anticipation all day yesterday and I get up in the morning, speaking on behalf of all the fans, it's a great day for Manchester United."
He added: "A lot of people played their part in bringing Ronaldo back to Manchester United and it helped me know that Cristiano really wants to come here and that is important. that".
He continued: "That's why we took steps to make sure he came here and then he followed the club very well and I spoke to the club management and that was done, I think it will have an impact on the young players in particular, he has the experience to deal with these things already."
Ronaldo led Man United to the top of the English Premier League standings, after raising his score to 10 points, bringing them together from 3 victories and a draw, while Newcastle United occupies the nineteenth and penultimate place in the standings table with one point.
Ronaldo (36 years and 218 days) became the second oldest player to record their participation in the English Premier League this season after Chelsea defender Thiago Silva (36 years and 354 days).