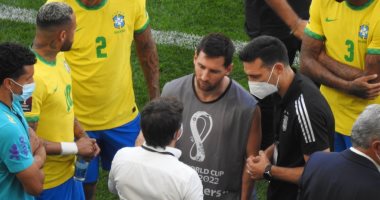 FIFA issued an official statement expressing its deep regret for the events that took place in the match between Brazil and Argentina yesterday, Sunday, in the Super Clasico, the South American continent, in the 2022 World Cup qualifiers at the Arena Corinthians.
"FIFA regrets the previous events of suspending the Brazil-Argentina World Cup qualifier match for the South American continent, which prevented millions of fans around the world from enjoying a match between two of the most important teams," FIFA said in its statement.
The statement added, "The match referee's report has already been sent to FIFA, and the information will be studied by the relevant disciplinary bodies, and a decision will be taken in a timely manner."
The crisis began with the match between the Brazilian national team and its Argentine counterpart stopping a few minutes after its start. FOX Sports BrasilThe television reported that the Super Clasico was suspended due to a request by members of the "Anvisa" organization, the national health monitoring agency in Brazil, to stop the match due to the participation of Argentine players who violated the quarantine rules, namely Martinez, Buendia, Lo Celso and Romero.
As a result of stopping the match, the Argentine national team players withdrew from the field after the Brazilian health officials entered the stadium and tried to remove the Tango players from England from the match. Because they violated health protocols by force, which was rejected by their colleagues, led by captain Lionel Messi.