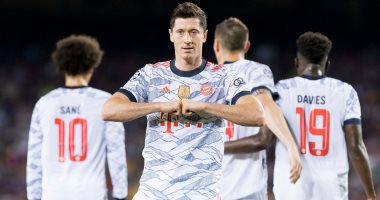 Bayern Munich will play an easy confrontation when it meets its guest Bochum, at 3:30 pm today, Saturday, at the Allianz Arena, in the fifth round of the German Bundesliga competition.
Bayern Munich has many statistics that reveal its superiority over its rival, which were published by the official website of the Bavarian club, the most prominent of which we review in the following report.
Bayern Munich has lost only one home game from 34 league matches against the newly promoted team (25 wins and 8 draws), with this defeat dating back to August 28, 1991 (2-0).
Bayern have won all of their last six matches against Bochum, the only longer victories they have had against them were from 1978 to 1982 (eight).
Bayern Munich have won all of their last three Bundesliga matches, with the last time they racking up such a winning streak from February to April, when they celebrated five straight wins.
Bayern Munich have not lost in 29 matches at home in the Bundesliga since November 2019 (24 wins and 5 draws), and they have won all of their last five matches at home.
Bayern Munich is ranked second in the German league standings with 10 points, two points behind leaders Wolfsburg, while Bochum comes in thirteenth place with 3 points.
For his part, Bayern Munich coach Julian Nagelsmann stressed the difficulty of facing Bochum, pointing out that Bayern's current place in the table is not what he wants.
"We are not where we want to be, we are still in second place, we do not have time to rest, it does not matter who the opponent is, you always have to push your limits, and we have the ability to do that tomorrow as well," Nagelsmann said in the match press conference about the league standings. ".
He continued, "We have almost a whole team, in addition to Koeman, Tolisso will also miss tomorrow's match. He still has pain in the calf muscle. He cannot train with the team yet."
And about the opponent Bochum, he said: "No matter who the opponent is, you always have to give your everything, we will not underestimate anyone, although Bochum do not have a lot of points so far, but they are doing well, they will try to play the ball. Quickly, our target is 3 points."