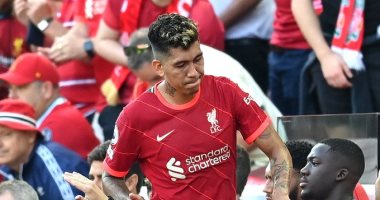 Press reports revealed that the Brazilian Roberto Firmino, the Liverpool striker, who is a professional in the Egyptian international ranks, Mohamed Salah, has returned to training after starting to recover from the injury.
And the English newspaper "Liverpool Echo" confirmed that Roberto Firmino returned to group training with Liverpool this week after recovering from the injury he suffered, but it is unlikely that he will participate on Saturday.
Roberto Firmino resumed training this week after a hamstring problem, but Saturday's match will likely be too early for the Brazilian.
The newspaper added that it is unlikely that Roberto Firmino will be ready to face Liverpool against Brentford on Saturday in the English Premier League.
The Brazilian Roberto Firmino, the Liverpool striker, published a picture of him with his family, through his account on the "Instagram" website, which is his latest appearance after suffering an injury with Nadia during the last Chelsea match at the end of last August, which ended in a 1-1 draw..
Firmino commented on the photo he posted on his Instagram account, in which he appeared with his wife and two daughters, saying: "I love my family. Thank you, Lord."
And press reports revealed that the injury suffered by the Brazilian striker, Roberto Firmino, striker for Liverpool, in the match that the Reds drew against its guest Chelsea 1-1, caused a major crisis at Anfield..
And the English newspaper, "Express", said that coach Jurgen Klopp may regret not including a new striker in the last Mercato, especially since Roberto Firmino will undergo an examination as a result of a suspected hamstring injury..
The newspaper pointed out that the Liverpool fans were wishing themselves to add another option to the offensive line in the recent transfer market, but the offensive superiority last season at Anfield made the administration stick to what they already had instead of bringing in new players.