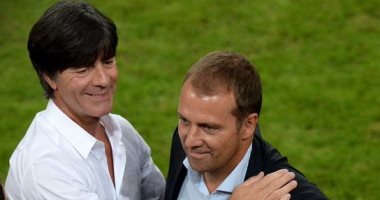 The new coach of the German national team, Hans Flick, managed to win during his first 3 games in charge of the German national team, after achieving his third victory on Wednesday evening against its Icelandic host, by four clean, in the meeting that brought them together at the "Lawardsvolor Stadium" in Iceland, in the sixth round of the group competitions. Tenth in the European qualifiers for the 2022 World Cup in Qatar.
The "Opta" network, which specializes in monitoring statistics, stated that Flick equaled the achievement of the former coach of the German national team, Joachim Loew, by winning his first 3 matches without conceding any goal.
Flick had started his career with the German national team by defeating Liechtenstein by a clean two, then crushing Armenia with a clean six and finally over Iceland by four clean.
Flick, the former technical director of Bayern Munich, took over the training of the German national team, succeeding former coach Joachim Loew, who left after the recent Euro 2020 competitions.
Germany national team
Germany took an early lead in the 4th minute through Serge Gnabry, and Antonio Rudiger added the second scorer at the 24th minute of the match..
In the second half, Leroy Sane boosted the goals of Mannschaft in the 56th minute, before Timo Werner scored the fourth goal in the 88th minute of the match.
With this result, the German team strengthened the table of the tenth group standings with 15 points, bringing them together from 5 victories and a loss, while Iceland occupies fifth and penultimate place with 4 points..
The German national team defeated Armenia 6-0 in the last round, while Iceland drew 2-2 with its guest North Macedonia.