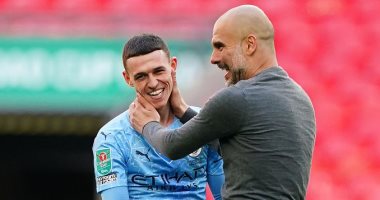 Phil Foden, the star of Manchester City and the England national team, confirmed that his team is participating in the English League Cup with the aim of crowning and winning the title, before the match that his team will play against his counterpart Wycombe, which will be held at 9:15 pm tomorrow, Tuesday, at the Etihad Stadium in the third round of the competition. .
Phil Foden said in statements before the match: "It is not by chance that Man City have won the title four times, we work to achieve it every year and hope to do it again this season."
"It's a really important competition and you see that in the names the coach picks, we take it really seriously," Foden added.
"We want to win every competition, the League Cup is part of that, and it gives players a chance to get minutes and this is a great opportunity to take advantage of it," Foden added.
"When you played against Oxford, I wanted to make an impression and the Cup give you a chance to do that," explained the Manchester City and England star.
In a related context, Pep Guardiola, coach of Manchester City, confirmed that he will give a number of young players the opportunity to appear in his team's next match against Wycombe.
Pep Guardiola said: "We will give some of the academy players a chance to participate against Wycombe, Rodri, Laporte, Stones and Zinchenko were injured, and it is unlikely that Gundogan will participate."
Pep Guardiola added: "I have no alternative but to play the Wycombe match with young players, some players will rest in order to prepare for the upcoming matches, and yes a few academy players will play."
And he continued, "Rodri was having some muscle problems, not big, but I don't know how many days, the doctor couldn't tell me."
"Also, Robin Diaz and Joao Cancelo played all the matches, I don't think they will play against Wycombe."
And he added: "Now we will play the League Cup, we are in difficult circumstances but we will go to London, Paris and Liverpool to play good matches. Football depends on how much we can build and when that happens, the strikers, the wings and the attacking midfielders play better."