The "Forever Marilyn" statue, which depicts the late actress Marilyn Monroe in one of her most famous on-screen moments, is scheduled to return to Palm Springs, California, on Sunday – but not everyone is happy about it.
Protesters including those from the Women's March LA Foundation are expected to show up to Sunday's planned unveiling of the 26-foot-tall statue to express their displeasure, according to a report. 
The group claims the statue – which shows Monroe with her dress blowing up in a scene from the 1955 film, "The Seven Year Itch," is sexist and promotes misogyny, the Desert Sun newspaper of Palm Springs reported.
The statue is "designed for viewers to walk in between the legs, look up her dress and snap a picture of her crotch or buttocks for fun," Women's March Inland Empire Executive Director Jenn Carson said in a statement, according to the newspaper.
"It is sexist, exploitive and misogynistic," Carson's statement continued. "Even in death, Marilyn has no peace. We are demanding the statue be moved. #metoomarilyn has no place in Palm Springs."
EU RECOMMENDS LIFTING CORONAVIRUS RESTRICTIONS ON US TOURISTS
Trina Turk, co-leader of a group called the Committee to Relocate Marilyn, claimed the plans to install the statue on Museum Way in Palm Springs went ahead despite community opposition, the Desert Sun reported.
Turk said different groups of opponents of the statue plan to show up Sunday to "voice our dissent to the statue being installed on Museum Way."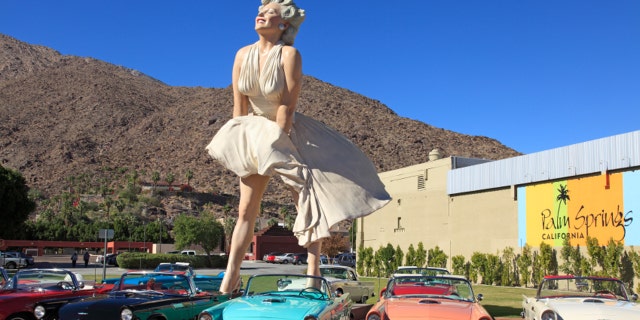 Supporters say the statue will help drive tourism to the city following California's long coronavirus shutdown.