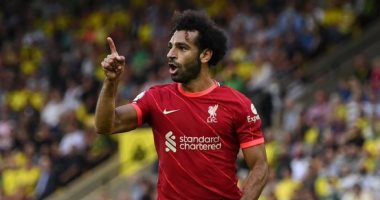 Stephen Warnock, the former Liverpool star, praised the capabilities of the Egyptian international, Mohamed Salah, the Reds winger, after reaching 100 goals in the Premier League, during the Leeds United match, which ended in his team's favor with three clean goals, during which he scored the opening goal in the match.
Stephen Warnock, in an article on the official website of the British radio, "BBC", said: "Another factor in Liverpool's success so far is that Salah is still scoring, of course, his goal against Leeds means that he now has 100 in the English Premier League, and it does not seem that he will stop." ".
Stephen Warnock added: "With Romelu Lukaku and Cristiano Ronaldo, both Chelsea and Manchester United have made noteworthy signings this summer to score goals in a bid to win the title. Liverpool shouldn't have done that because they have a consistent top scorer in the past four seasons now.".
He continued, "I don't know why people are surprised or wondering how Salah continues to do this. He is world-class.".
He continued: "He and Sadio Mane had a break during the summer, and they needed it. They are back looking hungry and in a better place, both physically and mentally, and we know they are good players.".
On the current Premier League standings and the presence of Liverpool next to Manchester United and Chelsea, Stephen Warnock confirmed: "A lot of people have written off Liverpool as a contender for the title this season because they signed only one player this summer, Ibrahim Konate.".
And Stephen Warnock continued: "Well, the season in which Liverpool won the 2019-20 league, they only signed with Elliott and reserve goalkeeper Adrian.".
The former Liverpool star noted: "Klopp clearly believes in his team, and he knows they have enough quality to win them again.
Stephen Warnock concluded: "I am worried about what will happen when Mane and Salah leave the African Nations Cup in January, but Liverpool will still be there fighting for the title until the end of the season, I am sure of that.".