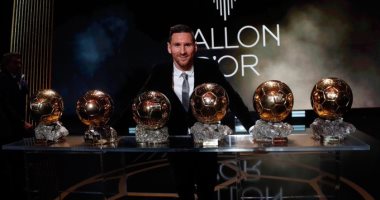 France Football magazine revealed the date of the Ballon d'Or party, after it was canceled last year due to the Corona virus.
The official account of "France Football" magazine, on the social networking site "Twitter", announced that the nominees for the Ballon d'Or award will be revealed on October 8, while the ceremony will be held on November 29, 2021 in the French capital, Paris.
𝘽 the 2021 Ballon d'Or ceremony at Théâtre du Châtelet of Paris#ballondor < a href="https://twitter.com/hashtag/kopatrophy?src=hash&ref_src=twsrc%5Etfw">#kopatrophy #yachinetrophy pic.twitter.com/FT5Vsv47et

— France Football (@francefootball) September 29, 2021
Argentine star Lionel Messi tops the list of the most awarded Ballon d'Or awards with 6 Ballon d'Or awards, and is succeeded by Portuguese star Cristiano Ronaldo, who has 5 Ballon d'Or.
Lionel Messi won the last edition of the Ballon d'Or in 2019, after a strong competition with Virgil van Dijk and Cristiano Ronaldo.