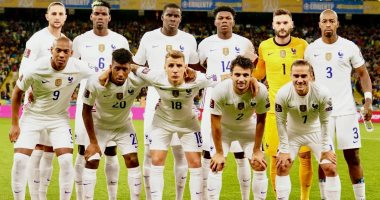 France will meet its Finnish counterpart, in the confrontation scheduled to take place at 9:15 pm today, Tuesday, at the Stade de France, as part of the sixth round of European qualifiers for the 2022 World Cup.
France leads the standings of the fourth group of European qualifiers for the World Cup with 9 points from 5 matches collected from 2 wins and 3 draws.
On the other hand, Finland is in second place in the standings with 5 points, but has played only 3 matches, achieving one victory and two draws.
Finland defeated Kazakhstan 1-0 in the last round.
The French team, led by coach Didier Deschamps, is seeking to restore the tone of victories again in the European qualifiers, after achieving a draw in the last two rounds.
The French national team fell into the trap of a positive draw 1-1, in front of its Ukrainian host, in the meeting that brought them together at the "Olympicky Sports" stadium, in the fifth round competitions.
The roosters' team had fallen into the trap of a 1-1 draw against Bosnia and Herzegovina during the recent meeting between the two teams.
The French national team achieved a negative number that has not occurred in its history, after its positive draw with its host Ukraine, 1-1.
The "Opta" network, which specializes in monitoring statistics, stated that the French national team drew in 5 consecutive matches for the first time in its history.
The national team had tied with its Hungarian counterpart 1-1 in the second round of the Euro 2020 groups, then tied with Portugal in the same tournament 2-2, and also tied with Switzerland 3-3, before losing on penalties in the round of 16, then tied With Bosnia and Herzegovina and Ukraine with a score of 1-1 in the qualifiers for the 2022 World Cup.