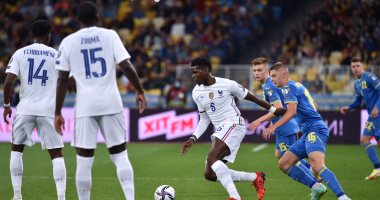 The French national team scored a negative number after receiving the first goal against its Ukrainian host, in the confrontation that brings them together at the "Olympicky Sports" stadium, in the fifth round of Group D in the European qualifiers for the 2022 World Cup in Qatar.
Mykola Shabarenko scored Ukraine's goal against France, in the 44th minute of the match, with a powerful shot to the left of Hugo Lloris, the French team goalkeeper, before Anthony Martial scored the equalizer for the Dukes in the second half.
And the "Opta" global network specialized in statistics and records, stated that the French national team received the opening goal in each of its last five matches, which is the longest consecutive streak for the roosters since November 2009 until June 2010 under the leadership of Raymond Domenech at the time and it was 5 matches as well.
France leads the group standings with 8 points, while Ukraine is in second place with 4 points.
The French national team started the match with the following formation:

Goalkeeper: Lloris
Defenders: Zouma, Kimpembe, Dean, Dubois
Midfield: Pogba, Rabiot, Chuamini
Attack: Koeman, Martial, Griezmann