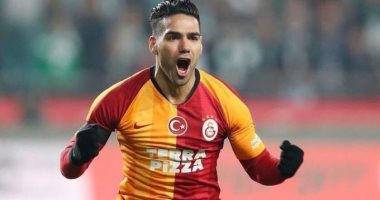 The Turkish club Galatasaray announced the termination of the contract by mutual consent with the Colombian striker, Radamel Falcao, before the closing of the summer transfer window, which was closed in the major European leagues.
Falcao's name has been associated with Rayo Vallecano, one of the Spanish league clubs, as Spanish press reports suggested the attacker's arrival in Madrid to sign with the club during the summer transfer period.
The official account of the Galatasaray club on Twitter revealed the termination of the contract by mutual consent between the two parties, as the player was able to convince the administration to leave during the summer Mercato.
In a related context, veteran coach Reinaldo Rueda, coach of the Colombia national team, announced, on Tuesday, the list of the matches against Bolivia, Paraguay, and Chile in the South American qualifiers for the 2022 World Cup in Qatar..
The list witnessed the presence of veteran striker Radamel Falcao, the Turkish Galatasaray striker, in addition to midfielder Juan Fernando Quintero, while star James Rodriguez was absent from it in light of the uncertainty surrounding his future with his club, Everton..
The last time Falcao appeared in the "Los Cafeteros" shirt against Chile was on October 14 last, against Chile in the second round..
The Colombian "Tiger" wrote on social media, "I am very proud to be part of this new list, and ready for the new challenge that lies ahead.".
Colombia will play Bolivia in La Paz on September 3, and then leave to face Paraguay in Asuncion two days later, before concluding its current agenda with a difficult match against Chile in the Colombian city of Brancia four days later..
Colombia occupies fifth place with 8 points, and is a full 10 points behind Brazil, the leader with the full score (6 consecutive victories).