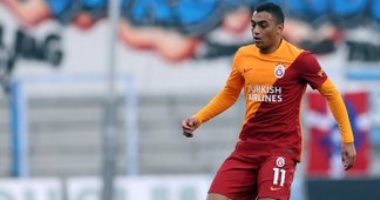 According to press reports today, the Turkish club Galatasaray strongly warned the Egyptian international, Mustafa Mohamed, the first team striker loaned from Zamalek, after his failure to move to Bordeaux, France, in the last days of the summer Mercato in Europe..
And Mustafa Mohamed's transfer to Bordeaux, France, failed after only 8 months inside Galatasaray, due to the player not being permanently included from Zamalek, who refused the matter completely.. Only after buying it permanently.
According to the Turkish newspaper, "Fotomac", Fatih Terim, the technical director of the Galatasaray team, issued a warning to Mustafa Muhammad about paying attention to his personal life and trying to organize his life during the current period in order to restore his technical level and rely on him after he was excluded in a large number of matches..
She added that the Galatasaray administration sent the player a stern warning, which is focus and commitment in his private life in order to restore his technical and physical level.
She revealed the anger of the Turkish team officials and coach, Fatih Tarim, at the decline in the level of Mustafa Mohamed, which prompted the coach not to participate in many matches, mainly this season..
And she added that Fatih Tarim gave the player a new opportunity to participate in the upcoming Galatasaray matches, and the administration is considering paying the eligibility clause to Zamalek on the specified date in anticipation of reselling it to the French League if Bordeaux still wants to include the Egyptian international.