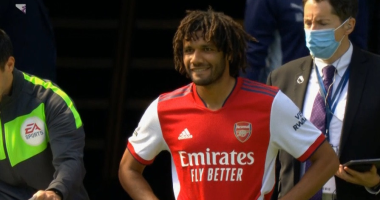 Press reports revealed today, Monday, that the Turkish club Galatasaray withdrew from the deal to sign Arsenal midfielder Mohamed Elneny..
Clubs in Turkey are looking to include unwanted players in European clubs with the opening of the Turkish transfer window until next Wednesday evening.
Mohamed Elneny is at the top of those wanted for sale at Arsenal, as his contract expires in June and he is always on the bench in the team.
According to the Turkish "Millet" network, Galatasaray made an offer of 12.5 million pounds to include Elneny, and it is said that club president Burak Elmas stood in the way of completing this step due to the player's large financial demands..
The newspaper added that the 29-year-old may find a way out of north London this week, with Besiktas also wanting to include him..
The Turkish capital team is speeding up its negotiations, as the midfielder spent time on loan two seasons ago and the club is trying to bring him back..
Arsenal continues its plan to sell unwanted players over the summer and has already done so with Willian, Joe Willock and David Luiz who have left along with the loanees of Hector Bellerin, Matteo Guenuzi, Reiss Nelson and others..
Arsenal is looking to make money from selling Elneny, who joined Arsenal from Basel in 2016, which will contribute to offsetting the team's summer spending on Ben White and other players..
And it seems that the Egyptian midfielder's career ended before the period of renewal of the team's blood under the leadership of Mikel Arteta, but he witnessed the club's first two defeats in the Premier League from the bench before coming as a substitute in the 5-0 loss against Manchester City.