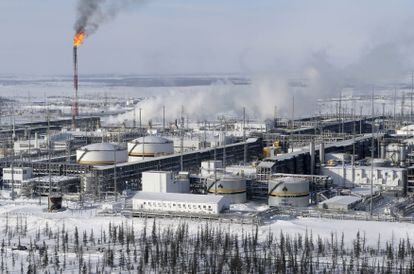 The rope is close to breaking on the most unexpected side. If until a few days ago the debate revolved around the possibility of Russia stopping exporting its vast energy reserves to Europe and the United States, today it is the West that is one step away from cutting to the chase. Both oil and natural gas prices are already trading on an option that in record time has gone from being far-fetched – the first economic sanctions on Moscow were very careful to exclude energy – to highly probable. The barrel of crude brent This Monday it is close to 130 dollars per barrel, not so far from the 140 that it exceeded in 2008, its historical maximum. The megawatt hour of gas has, for its part, exceeded 300 euros in the Dutch TTF market, the European reference, a new peak since there are records and 15 times more than a year ago.
The war is not only military, but also economic. In the midst of the debate in the United States about a possible veto of Russian crude —a measure that the White House seems willing to take even if its European partners do not support it—, a weighty voice in the Old Continent, that of the French Minister of Finance, Bruno Le Maire, has raised speculation this Monday by dropping that "all options are on the table." Le Maire, however, has appealed to the "unity" of EU action in an issue in which not everyone is in the same position for a compelling reason: "some countries are more dependent on Russian gas than others." The figures are very clear in this sense: while the Czech Republic, Hungary, Slovakia or Latvia depend 100% on the supply from that country, Spain, Portugal or Ireland obtain practically all their supply in other latitudes: in Algeria, in Norway or in the US itself.
The rise in oil continues to cause a drain on Spanish pumps, with gasoline prices already approaching two euros per liter, something unthinkable just a few weeks ago. That of gas is felt, above all, in the intensive industry in this fuel and in electricity, already clearly above 400 euros per megawatt hour in all the large European countries. This escalation impacts, in the first instance, the more than ten million households that have a regulated rate, which drinks directly from the wholesale market price. And it forces Brussels to move urgently to prevent inflation from going above double digits. Untying the directions of electricity seems the most logical option, but it is not yet known how or when this measure will be articulated.
[Noticia de última hora. Habrá actualización en breve]
He knows in depth all the sides of the coin.
subscribe