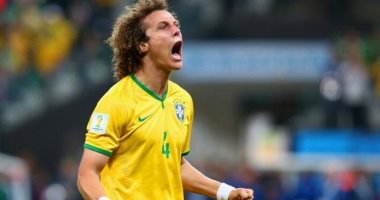 You may forget a match and not be able to remember its events, but it is difficult to forget the wonderful goals scored by the stars of the round witch, whose names are immortalized in football records, and have remained to this day stuck in everyone's minds.
"Goal Morning" is a daily report in which we present every morning a group of the most beautiful football goals scored by the game's top stars.
The Brazilian team was one of the candidates to reach the final of the 2014 World Cup, after it passed the group stage, topping its fiery group that included Mexico, Croatia and Cameroon, and without being defeated, and also bypassed Chile in the round of 16 match through penalty shootouts after the match ended in a 1-1 draw. .
In the quarter-final match, Brazil defeated Colombia 2-1, thanks to the missile goal scored by Chelsea defender David Luiz, in the 69th minute of the match.
This goal is considered one of the most important goals of the star David Luiz during his career, due to his skill in shooting the ball from outside the goal area, with a strong force similar to a missile, and giving Brazil the semi-finals card for the first time since 2002.