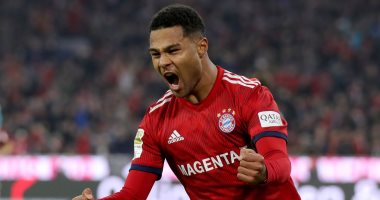 You may forget a match and you cannot remember its events, and you may forget players with their eyes and do not remember their names when one of your friends reminds you of them, but it is very difficult to forget the wonderful goals scored by the stars of the round witch, whose names are immortalized in the football records, and have remained to this day stuck In everyone's mind.
"Goal Morning" is a daily report in which we will present to you every morning a collection of the most beautiful football goals scored by the game's top stars..
Barcelona and Bayern Munich

David Gnabry, Bayern Munich's player with "Qalasha", eliminated Barcelona's hopes of returning to the atmosphere of the match in the summit that brought the two teams together in the quarter-finals of the Champions League last season, which ended with the Bavarian victory 8-2, after he scored the third goal in the match that was The world's talk at the time.
Gnabry started his career in England with Arsenal in the Premier League, where he made his professional debut in September 2012, and also spent a short period on loan with West Bromwich Albion before returning to Germany to join Werder Bremen in 2016, and in 2017, He signed with Bayern Munich before loaning him to Hoffenheim for the 2017-18 season. In 2018–19, his first season with Bayern Munich, he won the Bundesliga title and was named Player of the Season.
After participating with Germany at various youth levels, Gnabry made his international debut in November 2016 in the 2018 World Cup qualifying match against San Marino, scoring a hat-trick in an 8–0 win.
The date of the match between Barcelona and Bayern Munich
The Spanish teams Barcelona and Bayern Munich will clash at exactly nine o'clock this evening, Tuesday, at the "Camp Nou" stadium, the stronghold of the Catalan team, in a fiery confrontation in the fifth group matches of the group stage of the Champions League for the current season 2021/22.
Barcelona and Bayern Munich
Fans of the round witch around the world are waiting for Barcelona against Bayern, especially since it is expected that the match will witness a great rivalry because it is considered revenge for the disastrous memory it carries for the Spanish champion after losing in the last confrontation between them with eight goals to two goals in favor of the Bavarian in the same competition.