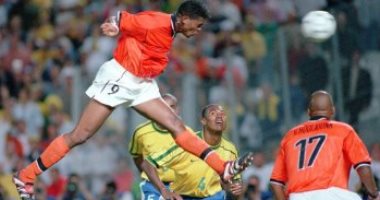 You may forget a match and you cannot remember its events, and you may forget players with their eyes and do not remember their names when one of your friends reminds you of them, but it is very difficult to forget the wonderful goals scored by the stars of the round witch, whose names are immortalized in the football records, and have remained to this day stuck In everyone's mind.
"Goal Morning" is a daily report in which we will present to you every morning a collection of the most beautiful football goals scored by the game's top stars..
The Dutch team played against Brazil, in the semi-finals of the 1998 World Cup, a very exciting match between the two giant teams, but Samba managed to advance through the phenomenon Ronaldo, one minute after the start of the second half.
Brazil remained ahead of Ronaldo's goal until the last minutes of the match, but Dutch star Patrick Kluivert equalized for the mills from a missile header, after receiving a wonderful cross from Frank Debor.
Patrick disrupted Brazil's qualification for the World Cup final, and the match went to two additional games, and then to penalty kicks, but she smiled in the end for Seleção.