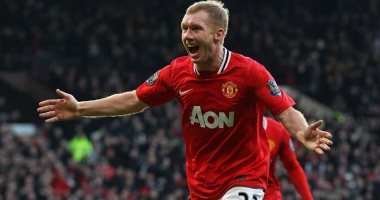 You may forget a match and you cannot remember its events, and you may forget players with their eyes and do not remember their names when one of your friends reminds you of them, but it is very difficult to forget the wonderful goals scored by the stars of the round witch, whose names are immortalized in the football records, and remained to this day stuck In everyone's mind.
"Goal Morning" is a daily report in which we will present to you every morning a collection of the most beautiful football goals scored by the game's top stars..
Manchester United collided with Barcelona in the Champions League semi-finals in the 2007-2008 season, but the first leg at the Camp Nou was negative, without the two teams scoring any goal..
As for the "Old Trafford" stadium in the second leg in Manchester, it required the victory of either team in order to qualify for the final match, which was achieved for the owners of the land, after Paul Scholes, the star of the Red Devils, hit a resounding missile from a distance, which inhabited the window of Victor Valdes after only a quarter of an hour From the start of the match.
The match ended with the goal of United, and Manchester qualified for the final match, and crowned the title, after winning the penalty shootout at the expense of Chelsea.