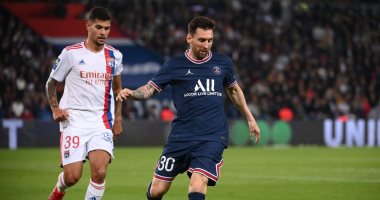 Good news received by fans and fans of Argentine star Lionel Messi, the star of Paris Saint-Germain, before facing Manchester City next Tuesday, in the second round of the group stage of the Champions League.
And the French radio "Monte Carlo" reported that Messi and Marco Verratti, Saint-Germain players, participated today in the group training of the Parisian team, two days before the Manchester City match, and Messi was suffering from a left knee injury, which he suffered during the confrontation with Olympique Lyonnais.
It is noteworthy that Messi and Verratti were absent from Saint-Germain's 2-0 victory over Montpellier, yesterday, Saturday, in the eighth round of the French League.
The Paris Saint-Germain team strengthened its lead in the French League standings, after it achieved an important victory over its guest, Montpellier, with two goals without return, in the confrontation that brought them together at the "Park of the Princes", in the eighth round of the competition in the current season 2021-2022.
Idrissa Guy scored the goal for the French capital club in the 14th minute of the match, then Julian Draxler added the second goal one minute before the end of the match.
With this result, Paris Saint-Germain enhances its lead in the French league standings, after raising its score to 24 points from 8 matches, 10 points behind runner-up Marseille with 14 points with two fewer games, while Montpellier came in eleventh place after its balance was frozen at 9 points. .