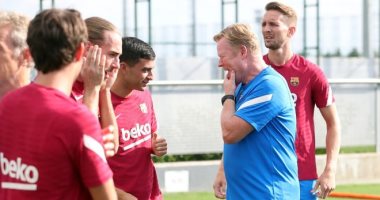 Dutch coach Ronald Koeman, coach of Barcelona, ​​​​received a strong impetus before facing Benfica, scheduled for tomorrow, Wednesday, in the second round of the group stage of the Champions League season 2021-2022.
Barcelona started its Champions League campaign this season by losing to Bayern Munich 3-0, in the first round of the group stage.
The Catalan newspaper "Sport" reported that Barcelona's training today, Monday, witnessed the return of the duo Pedri Gonzalez and Jordi Alba after recovering from injury, and they became a great deal of readiness to participate against Benfica.
The newspaper added, that the duo Pedri and Jordi Alba successfully completed the rehabilitation program on the injury, and are close to joining the Barcelona squad against Benfica.
The European Football Association (UEFA) announced the referee for the Benfica match against Barcelona, ​​which is scheduled to be held tomorrow, Wednesday, in the second round of the group stage matches of the European Champions League, at the "Al-Nour" stadium.".
The Italian Union appointed Daniele Orsato, 46, to manage Benfica's match against Barcelona in the Champions League for the 2021-2022 season..
Italian referee Daniele Orsato managed one match for Barcelona in the Champions League, and that was in the 2016 edition, when he defeated Celtic, Scotland, 2-0..
Orsato led three matches for Benfica, winning one and losing two, winning (2-3) over Anderlecht in the 2012-2013 season, and losing in the 2018-19 season, 5-1 in Munich against Bayern in the group stage, Then he lost 2-0 in Frankfurt in the second leg of the European League quarter-final against Eintracht Frankfurt.
It is worth noting that Barcelona is at the bottom of the Champions League group E table, without a balance of points, while Bayern Munich leads the standings with 3 points, and behind it is Dynamo Kiev, in the summer, with one point, and then Benfica in third place with a goal difference.