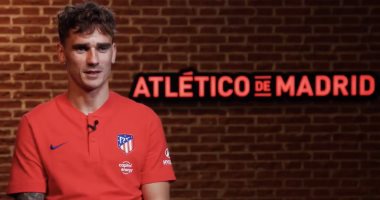 French star Antoine Griezmann expressed his great happiness after his return For his club Atlético Madrid, after nearly two years spent with Barcelona, ​​​​after the Madrid club loaned him until the end of the current season with the option to buy.
On Wednesday, Griezmann met again with his Argentine coach Diego Simeone, and with his colleagues on the sidelines of the Madrid team's training.
Griezmann said in statements to the official website of Atletico Madrid: "I wanted to return to Atletico in any way, Atletico is the best place for me in years."
Griezmann continued:: "I'm so happy, with a smile from ear to ear, I haven't been able to sleep for 10 days, I've been waiting for this moment while I'm having fun and enjoying with my family."
The French star continued, "In every game I will do my best, I wanted to come back yes or yes, for me Atlético is the best place to be happy on and off the field." "The last day in the market was a little crazy but in the end it went well," he continued.
On his message to Atletico Madrid fans, Griezmann explained: "When I play, I will give everything, as it has always been my style of playing on and off the field. I will give everything to them and make them happy in the stands and on TV. So they can be proud of me."
He continued: "We hope to live with the fans those magical nights and enjoy this is my main goal. I had a nice relationship with the Atlético fans and I want to go back to it again, I do not want it with words, I will show it with deeds."
He continued: "Things are going well at Atletico and I will be on the field or away to help, there is a dressing room and a great team, and I am here to do more."
On coach Diego Simeone, Griezmann said: "It is also thanks to him that I am here. ".
He concluded, "The first thing I want to do is score a goal at Wanda and feel this cry from the fans, which is unbelievable for me in such a full stadium."