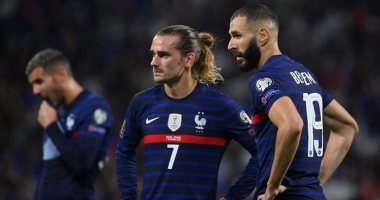 The French national team regained the track of victories after drawing in the last 5 matches in various competitions, after defeating its guest Finland, with a clean double, in the match that brought them together on Tuesday evening at the "France" stadium, in the sixth round of the fourth group of European qualifiers for the World Cup finals. 2022.
France ended the first half superior to a goal scored by Antoine Griezmann, who recently returned to the ranks of his former club, Atletico Madrid, in the 25th minute of the match, after receiving a pass from Karim Benzema, and he shot it in a wonderful way to the left of the Finnish goalkeeper.
In the second half, Griezmann returned to add the second goal in the 53rd minute, after receiving a pass from Dubois, then he dribbled the defender and put the ball to the left of the Finland goalkeeper in a wonderful way.
Griezmann became the fourth top scorer for the national team in history, with 41 goals, equal to former star Michel Platini.
Thierry Henry is France's top scorer with 51 goals, then AC Milan striker Olivier Giroud with 46 goals. The French team strengthened its lead in Group D with 12 points, while Finland's balance stopped at 5 points in fourth place. In the same group, Bosnia and Herzegovina tied with its Kazakh guest, 2-2.