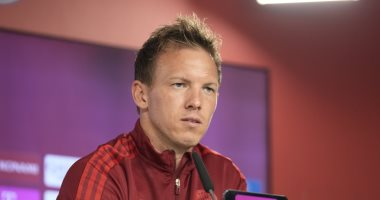 Bayern Munich coach Julian Nagelsmann spoke about the Groter Fürth match tomorrow, at the opening of the sixth round of the Bundesliga season 2021-2022, at the Ronhof Sport Park.
Bayern Munich coach started his speech at the press conference about Jamal Musiala and Serge Gnabry's position on catching up with the Grouter Fürth match, saying, "Both Serge and Jamal can play, but we have to wait until tomorrow to see how they react to the injury."
Nagelsmann added, "We will also play in the Champions League in a few days. We will not risk anything superfluous and the probability that both will play from the beginning is very small."
During his speech, the Bavarian praised the young star Malik Tillman, saying, "Malik is a very, very good striker who contributes to the matches. He has the talent to see spaces and can score goals. We subject him to individual pressures so that he can play with the second team in the top match against Bayreuth."
Regarding the medical condition of the star Malik, Nagelsmann said, "His knee, which underwent surgery sometimes responds, he is a very calm and introverted man, and sometimes he has to make more use of himself, he is a very promising talent."
On his opponent, Grotter Fürth, the Bayern coach commented, "We need to be ready for a difficult battle and an opponent who defends deeply, it is clear that we are the favorites to win, but certainly this is not enough."
He continued, "We need the three points, as this is the only way we will be able to follow up on our goal of winning our 10th title in a row, certainly we will not underestimate any of our opponents."
Nagelsmann ended his comments, revealing his opinion about Bayern Munich's start in the new season, "I admire the desire and character of the team, however, we still have a lot of potential and I think we will do better, and I am looking forward to that."
It is worth noting that Bayern Munich is at the top of the German league standings, with 13 points, while Wolfsburg is in the summer with a goal difference, while Grotter Fort is at the bottom of the standings with one point.