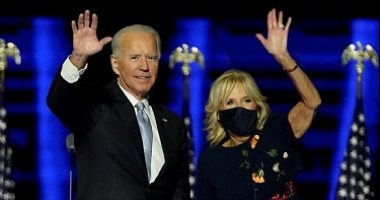 The British "Guardian" newspaper said that the US President-elect Joe Biden will receive his first dose of the Coronavirus vaccine live on Monday, as part of a growing effort to convince the American public that vaccinations are safe..
The event comes at a time when the second vaccine, produced by Moderna, will begin to reach the states, joining the Pfizer-Bionic vaccine in the US arsenal against the Covid-19 pandemic that has killed more than 317,000 in the United States..
Johns Hopkins University recorded 189,099 new cases of Covid virus in the United States on Sunday and 1,509 new deaths, both of which fell from their record highs last week but on weekends, when the numbers usually drop. There were over 17.8 million cases in the United States.
The COVID-19 Tracking Project said 113,633 people were hospitalized, another small drop as hospital and intensive care capacity is under severe pressure in states across the country..
The newspaper said the first doses of Moderna, which like the Pfizer-Biontec vaccine require two doses but are easier to store, were packed and shipped from Tennessee on Sunday..
Biden said of his decision to vaccinate: "I don't want to skip my role. But I want to make sure that we show the American people that it is safe to take it.". "
The press secretary confirmed that Biden and his wife, Jill, would also thank the health care workers at the facility as they received the doses..
Senior government officials last week joined the first Americans to be vaccinated as part of the largest vaccination campaign in US history. Mike Pence, Nancy Pelosi, Mitch McConnell and other lawmakers got their doses on Friday. They chose to advertise their injections as part of a campaign to convince Americans that vaccines are safe and effective amid doubts, especially among conservatives..
Kamala Harris and her husband are expected to receive their first vaccinations next week.
And Donald Trump was absent from the event, who spent the past week largely out of sight while continuing to grumble about his election loss, laying out increasingly bizarre schemes to try to stay in power..
Trump, who has spread false information about the risks of the vaccine, has not said when he intends to get the vaccine. He tweeted earlier this month that he was "not scheduled" to take it, but said he was "looking forward to doing so at the appropriate time". The White House said it was still discussing the timing with its doctors.
But White House press secretary Kylie McNani offered a different explanation. She told reporters last week that Trump was delaying partially "to show Americans that our priority is the most vulnerable."".