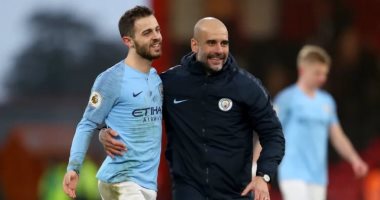 Manchester City coach Pep Guardiola has opened the door to leaving Portuguese star Bernardo Silva next summer.
The Portuguese star, Bernardo Silva, has a contract with Manchester City that extends until June 2025, and he is having difficulty playing mainly under the leadership of Pep Guardiola, in the presence of more than one player in his position within the city.
Guardiola said in comments published by the English newspaper "Daily Mail": "All I want is for Bernardo to be happy, here or anywhere.".
The City coach added, "What he did is not strange, it was a great signing for us because he is an exceptional person. I will never forget the second English Premier League title that we won with 98 points.".
Guardiola continued, "If in the end he still wants to leave and decides to leave, the only thing I can say is that the club that will get Bernardo will take one of the best players in the world."
On the performance of Manchester City midfielder Bernardo Silva against Chelsea, in the match that brought them together last Saturday, in the sixth round of the English Premier League, Guardiola commented, "What a performance, what he did is not his role, but he knows exactly how to play and how to expect what will happen, With or without the ball.
Manchester City beat Chelsea with a clean goal in the sixth round of the English Premier League.