Antonio Guterres, Secretary-General of the United Nations, congratulated citizens from different countries of the world on the occasion of the advent of Christmas, wishing that this occasion would inspire feelings of sympathy and compassion for the millions of people affected by the Corona pandemic.
The Secretary-General of the United Nations wrote, through his Twitter account: "My warmest wishes to everyone who celebrates Christmas. I hope that this occasion will inspire us to think passionately with the millions of people affected by Corona every year and you are all well."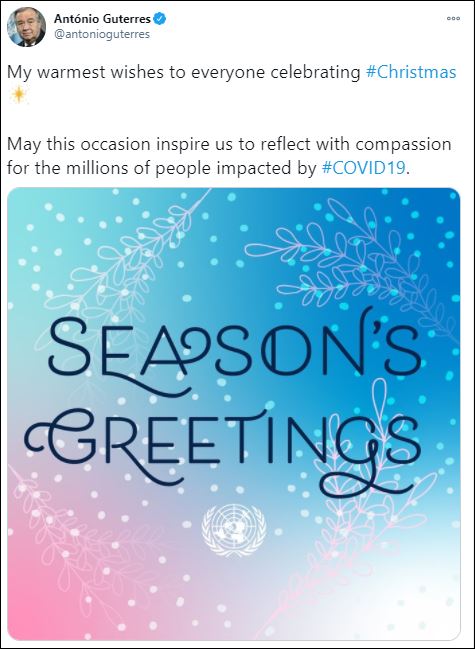 United Nations Secretary-General Antonio Guterres
And Antonio Guterres emphasized that there is no going back and inequality, and we must make the issue of recovery from the Corona virus and climate change two sides of the same coin..
"We cannot return to the old normal of inequality and fragility. Instead, we must step towards a safer and more sustainable path," wrote Antonio Guterres, on his Twitter account, adding: "With today's decisions that set our course for decades to come, We must make a corona recovery COVID19Climate change are two sides of the same coin. "
It is noteworthy that the world is living in a state of panic after the idea of ​​the emergence of a new strain of Corona virus in Britain, and because of it many countries imposed tight closures, including the airspace for any flight coming from Britain for fear of the English strain, unless a new mutation of the virus appeared, but its origin this time south Africa amid severe fears from it, which reports indicated that it has moved to other countries.