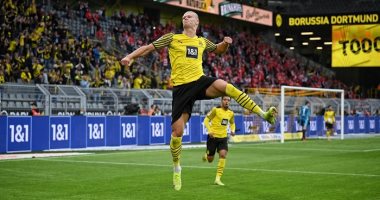 The Norwegian Erling Haaland, the striker of the Borussia Dortmund team, and the Polish Robert Lewandowski, the striker of Bayern Munich, are the only two players who excel in scoring, with 7 goals per player, over the French Karim Benzema, the Real Madrid striker, with 6 goals, in the five major European leagues..

Benzema scored the winning goal for Real Madrid yesterday, Sunday, in the meeting with the Valencia team at the Mestalla stadium in the fifth round of the Spanish Football League "La Liga".".
The match ended with the victory of "Merengi" with two goals against a goal, and the goal of Real Madrid's victory in (s 88) came through Benzema, who hit the ball with his shoulder, and was enough to collect the three points for his team and continue to the top of the La Liga standings..
With Benzema's goal in the Valencia match, he continued to top the Spanish league's top scorer with 6 goals, one goal behind the second-placed teammate, Vinicius Junior, who scored 5 goals to be his best start in La Liga since joining Real Madrid..
Benzema contributed to 11 goals with Real Madrid in La Liga this season, scoring 6 goals and assisting 5 assists.
There are only two players who outperform Benzema at the top of the top scorer in the five major European leagues, Haaland and Lewandowski, with 7 goals for each player in 5 rounds of the German Football League "Bundesliga."".
Although Haaland and Lewandowski are equal in the number of goals, the Norwegian is at the top of the scorers because he has 4 decisive balls, unlike the Polish who has not yet passed any decisive ball to his teammates..
Next Wednesday, Real Madrid will host Real Mallorca at the (Santiago Bernabeu) stadium in the sixth round of La Liga, and therefore Benzema has an opportunity to increase his goal and place him on the top scorer of the major European leagues..
As for the English Premier League competitions, "Premier League", Jamaican West Ham United striker Mikael Antonio is the top scorer with 4 goals, in addition to passing 3 decisive balls, and the French Paul Pogba, Manchester United midfielder is the only one who surpasses him in the number of passes. The decisive player, followed by the Egyptian scorers Mohamed Salah, the Liverpool winger, with 4 goals and two decisive balls.
In the Italian League, Lazio striker Ciro Immobile leads the scorers list with 5 goals, followed by Brazilian Joao Pedro, Cagliari striker, with 4 goals and two assists..
In the French League, "Liga A", Kylian Mbappe is the top scorer with 4 goals and 3 assists. In the Portuguese league, Colombian Luis Diaz, a player for Porto, leads the scorers list with 5 goals and one decisive ball.