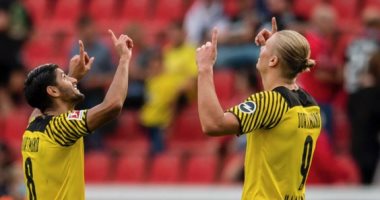 Norwegian striker Erling Halland, striker of the German team, Borussia Dortmund, posted a tweet through his account on the social networking site "Twitter", in which he said, "Praise be to God," in response to the marathon victory that the team achieved against Bayer Leverkusen today, Saturday, with four goals against three, in the confrontation that took place between them. At the Bay Arena, in the fourth round of the German Bundesliga championship 2021, after he turned two goals behind when the score was 3-1 to a valuable victory.
And Borussia Dortmund club published an exciting tweet with Haaland's picture written on it: "Praise be to God, my love." Haaland retweeted the tweet and wrote, "Praise be to God."
The goals of Borussia Dortmund, Norwegian star Erling Haaland, scored in the 37th and 77th minutes from a penalty kick, Julian Brandt in the 49th minute, and Rafael Gerrio in the 71st minute of the match.
While Florian Vertz scored the goals of the hosts in the 9th minute, then Czech Patrick Shek added the second goal in the first minute of the lost time in the first half (54 + 1), and Moussa Diaby scored the third goal in the 55th minute of the confrontation.
With this result, Leverkusen ranked fourth in the standings with 8 points, while Dortmund raised its score to 9 points, in second place behind leaders Wolfsburg with 12 points, which beat Gruether Fort 2-0.
Alhamdulilah ❤ https://t.co/X97o3nqTSe

— Erling Haaland (@ErlingHaaland) September 11, 2021