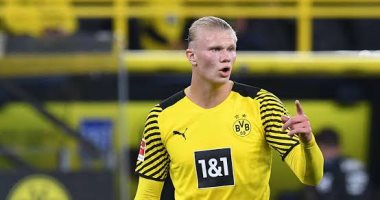 Norwegian Erling Haaland, the rising player of Borussia Dortmund, began his European adventure in the Champions League only two years and 12 days ago, and despite that, he scored his heavy goals in this tournament, which is controlled by the two great stars Cristiano Ronaldo and Lionel Messi, on its records throughout its history, and by a large difference from all the stars others.
Haaland scored in only 17 matches, a terrifying number of goals, which means that he will be the successor to Ronaldo and Messi, who is able to threaten their throne as the best players who set records in this tournament.
Halland, the 21-year-old, who started his professional career at the Norwegian club Molde, then moved from there to Austrian Red Bull Salzburg and from there to his current team, Borussia Dortmund, scored 21 goals in his first 17 games in the Champions League, including 8 goals in 6 matches with the team Red Bull, 13 goals in 11 games with Dortmund, a mythical number if compared to the numbers achieved by the top scorers of this tournament in their first 17 games.
And the history of this tournament indicates that Ronaldo scored only one goal in his first 17 matches in it, although he is its top scorer throughout its long history, which began in 1955, while Lionel Messi scored only 6 goals, meaning that Halland scored alone, three times what they both scored. Both are in the same number of matches.
As for the two closest international stars to Halland's goals in the first 17 games, they are French Karim Benzema and Dutchman Ruud van Nistelrooy; Both of them scored 12 goals in their first 17 matches in the Champions League.
Ronaldo tops the list of top scorers in this tournament with 136 goals with his goal in Villarreal, followed by Messi with 121 goals with his goal in Manchester City, then the Polish Robert Lewandowski of Bayern Munich in third place with 77 goals with two goals in Dynamo Kiev, followed by Karim Benzema in fourth place with 72 goals with a goal in Sheriff of Moldova and then Raul Gonzalez is fifth with 71 goals.
Cristiano Ronaldo is the only one with the record number of goals in one edition of the tournament, which is 17 goals in the 2014 tournament, and his closest competitor is himself personally with 16 goals in the 2016 edition.