An already struggling and chaotic Haiti stumbled into an uncertain future Thursday after the assassination of President Jovenel Moïse, followed by a gunfight in which authorities said police killed seven suspects, detained six others and freed three officers being held hostage.
Officials pledged to find all those responsible for the pre-dawn raid on Moïse's home early Wednesday in which the president was shot to death and his wife, Martine, critically wounded. She was flown to Miami for treatment.
"The pursuit of the mercenaries continues," Léon Charles, director of Haiti's National Police, said Wednesday night in announcing the arrest of suspects. "Their fate is fixed: They will fall in the fighting or will be arrested."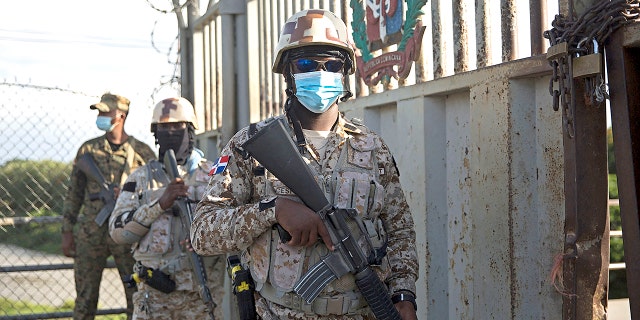 She said it was important for the administration of U.S. President Joe Biden to take a much more active role in supporting attempts at national dialogue in Haiti with the aim of holding free, fair and credible elections.
Bastien said she also wants to see participation of the extensive Haitian diaspora: "No more band-aids. The Haitian people have been crying and suffering for too long."
Haiti had grown increasingly unstable under Moïse, who had been ruling by decree for more than a year and faced violent protests as critics accused him of trying to amass more power while the opposition demanded he step down.
HAITI PLANE CRASH KILLS 2 AMERICAN MISSIONARIES, 4 OTHERS ON BOARD: REPORTS
According to Haiti's constitution, Moïse should be replaced by the president of Haiti's Supreme Court, but the chief justice died in recent days from COVID-19, leaving open the question of who might rightfully succeed to the office.
Joseph, meanwhile, was supposed to be replaced by Ariel Henry, a neurosurgeon who had been named prime minister by Moïse a day before the assassination.
Henry told the AP in a brief interview that he is the prime minister, calling it an exceptional and confusing situation. In another interview with Radio Zenith, he said he had no dispute with Joseph. "I only disagree with the fact that people have taken hasty decisions … when the moment demands a little more serenity and maturity," he said.
COLOMBIA PROTESTS SEE AT LEAST 24 DEAD AFTER 1 WEEK
Moïse had faced large protests in recent months that turned violent as opposition leaders and their supporters rejected his plans to hold a constitutional referendum with proposals that would strengthen the presidency.
On Thursday, public transportation and street vendors remained scarce, an unusual sight for the normally bustling streets of Port-au-Prince.
Marco Destin, 39, was walking to see his family since no buses, known as tap-taps, were available. He was carrying a loaf of bread for them because they had not left their house since the president's killing out of fear for their lives.
"Every one at home is sleeping with one eye open and one eye closed," he said. "If the head of state is not protected, I don't have any protection whatsoever."