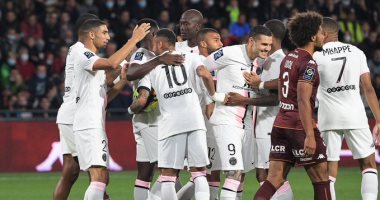 Achraf Hakimi, the Paris Saint-Germain star, led his team to achieve a fatal victory at the expense of Metz, after beating Metz 2-1 in the match that took place between them this evening, Wednesday, at St.
Paris Saint-Germain's goal came in the fifth minute of the match, at an early goal-scoring start in the meeting, which contributed to a state of relief among the Parisian players. The score was tied for Metz by Boubacar Kiki Koyati in the 39th minute of the first half and the match
Before Achraf Hakimi put the winning goal in the fifth minute of stoppage time from a magical pass he received from the Brazilian Neymar da Silva.
With this result, Paris Saint-Germain's tally rose to 21 points at the top of the French league standings, collected from winning in 7 meetings, and succeeded in scoring 20 goals and receiving only 7.
Meanwhile, Metz continued to suffer at the bottom of the French league standings with 3 points from two draws and 5 losses in the tournament, scoring 7 goals and receiving 15 goals.
The match witnessed the absence of Argentine star Lionel Messi due to the injury suffered by the player in one of the Parisian team's training before facing Metz today.
The formation of Paris Saint-Germain was as follows:
Goalkeeper: Keylor Navas
Defence: Nuno, Kimpembe, Marquinhos, Hakimi.
Midfield: Wijnaldum, Rafinha, Danilo
Forwards: Neymar, Icardi, Mbappe
The fans were waiting for Lionel Messi to appear again, especially after the crisis that erupted between him and his coach during the last match against Lyon due to his replacement during the second half of the last meeting against Lyon.
Messi has not yet scored any goal in the Paris Saint-Germain shirt, which he moved to this summer from Barcelona after 17 seasons in his first team, during which he crowned him with all possible titles, including a historic six in 2009 and became his historical scorer.
Messi moved in the summer transfer period to Paris Saint-Germain in a free transfer deal after the failure to renew his contract with Barcelona due to the economic and structural obstacles to La Liga and the high salary block in the Catalan team.