Harry Kane, top scorer for England and Tottenham, confirmed that his country has made a big step closer to qualifying for the 2022 World Cup, despite the draw against Poland yesterday in the World Cup qualifiers.
Harry Kane, top scorer for the England national team, expressed that he was not happy not to see the win yesterday, but there are a lot of positives. Harry Kane commented on his personal account on "Twitter", saying: "I was not satisfied with not seeing the win. But a lot of positives from these three matches. It's a big step closer to qualifying for the World Cup."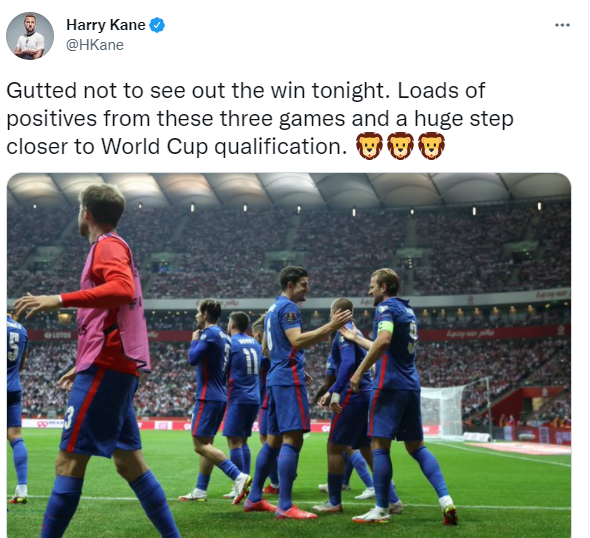 Harry Kane on Twitter
The Polish national team managed to achieve a 1-1 draw with its guest England, in the match that brought the two teams together, on Wednesday evening, at the "Slaskie International Stadium", as part of the sixth round of Group I in the European qualifiers for the 2022 World Cup.
Harry Kane scored the England national team's goal in the 72nd minute with a superb shot from outside the penalty area, which landed to the left of Juventus goalkeeper Chesney..
Kane raised his score to 41 international goals with the England national team, to be ranked fifth in the historical top scorer, with a goal difference from Michael Owen..
In the second minute of stoppage time, Damien Szymanski scored the deadly equalizer for Poland with an assist from Robert Lewandowski..
The end of the first half witnessed a strong argument between the players of the two teams, specifically between the duo Harry Maguire and Kamil Celik, which led to the referee revealing the yellow card in the face of both players..
With this result, the English team maintains the lead in Group I with 16 points, while the Polish team slipped to third place with 11 points, one point behind the runner-up Albania..